Interview with Christine Toye: Odd Squad Costume Designer
Crushing mathematical problem solving, working together, and stopping oddness around town; all while wearing a very stylish yet functional suit. Odd Squad is a children's television program created by Tim McKeon and Adam Peltzman; with costumes designed by Christine Toye. In Odd Squad's short life it has quite the list of nominations and awards under its belt; Toye has taken home two Daytime Emmy's for her costume designs. Toye's designs for Odd Squad are a mixture of contemporary and fantasy with a hint of fun. Toye's designs have an exuberance about them that supports the story and universe with precision. Fashioned for the Geek got a chance to interview Christine Toye about her career and Odd Squad designs. Toye delves into the process behind Jamie Jam, inspirations, and design. Enjoy!
Fashioned for the Geek: How did you get your start in costume design and what drew you to this career path?
Christine Toye: Out of theatre school I got a job as a Costume Supervisor for Drayton Entertainment, a theatre company with sites all across Southern Ontario Canada. Up until then I thought I would be a sound engineer. My mother had taught me as a kid to sew, knit, and cross-stitch. It wasn't until I was moved into building costumes at Drayton's Grand Bend location did I realise I could (and should) make a career out of something that came naturally to me. I overheard a coworker recounting a conversation she had with a teacher of hers who said "the only place to go in Costumes was Design" So I thought to myself - "okay! I'll do that." I worked a season at the Stratford Shakespeare Festival to see how the best of the best did the job, I taught myself to sketch, and set out to work my way up from labelling undies to designing shows.
FG: How has instinct played a role in your design process and when do you know to pull back?
CT: I always trust my gut, the initial reaction to something I've read in a script. It has never served me well to overthink a character. It takes a few key words from the Writers, Executive Producers, and Directors to solidify my plan before I'm off running with ridiculous ideas. I only pull back if I'm asked by the networks, or if time (or budget) doesn't allow for my team to properly execute the design or I lose the "extras" from the look. I always design additional elements that if achieved in time would be icing on the cake, but the design doesn't suffer without. I've build a strong relationship with Sinking Ship Entertainment, and with their trust it allows me a fair amount of design freedom.
FG: Is there a difference between designing for children's programming compared to adult programming?
CT: The bulk of my design experience has been for children's television programming, with a background in theatre. My design process would be the same for Children's or Adult programming. I figure out the character through reading the script and concept meetings with the writers, directors and executive producers. After casting, I work with the performers specific body shape, colouring and physical attributes. Once the design is signed off on by the Big Wigs, shopping and acquiring pieces happens. In the shop, my incredible utter (Alicia Zwicewicz) creates patterns from my designs, and the costume technicians complete the garments. I feel that designing for a young audience opens up a real of complete unencumbered possibilities. Nothing seems to be off limits - colour, texture, volume, unorthodox materials, etc. The sky's the limit! I live by the mantra "everything is possible".
FG: What is the inspiration behind the Odd Squad uniforms?
CT: Odd Squad is a professional environment and what better way to express that then crisp uniform looks for each department. In initial design meetings the co-creator/head writer of Odd Squad Tim McKeon, and Sinking Ship Entertainment Partner and Executive Producer/Director J.J. Johnson asked for a few things; Not black, Atypical suit (not something you'd buy from a school uniform supply), Timeless, Hint of colour, and easily identifiable. There isn't a definitive inspiration for the Agency suits, it is a collection of classic style lines, but once I decided to have a jacket without lapel, the rest of the departments looks fell into place. Their collar pins were inspired by Assistant United States Attorneys who often wear a flag pin on their lapels.
FG: Are there any special design secrets in the Odd Squad uniforms for the ultra-detailed cosplayer?
CT: The Agency suits are made from stretch cotton sateen and feature two welt pockets on the lower third of the jacket. Three covered buttons down the front (magnet closure), no lapels - just a collar where the department pins are placed, no vent, two-piece sleeve, and a red tie that zips onto the shirt. If they want to go all out, they can put a Kindle or iPad mini in their jacket lining as seen in Season One OTTO's Jacket.
FG: One of the episodes I was most excited by was "A Fistful of Fruit Juice". I love costume history and I loved the translation of the Odd Squad uniforms for 1870. How was designing this episode and how much does historical costume influence your other designs?
CT: In keeping with the clean lines of the present day Odd Squad, I researched silhouettes of garments from that time period that would be a cohesive step back in time. I found the frock coat to be a good generalisation for that period. Fabrics of the late 19th century were still natural, so I used leather, cotton, wool and wooden materials. The colour scheme was muted but still in keeping with the different departments modern day schemes. As travel by horse was common, elements of the Wild West in the form of the Odd Squad Badge, boots, hat, and suede inner thighs of the pants completed the agency look.
In all of my designs I like to bring in at least three sources of inspiration, and historical silhouettes greatly influence every design. I play with shapes, making them my own by blending and blurring the time lines. I don't have to follow strict modes of dress because Odd Squad doesn't exactly orbit in the real world, I can run free and compile details I find attractive. I think that may be what gives OS such a unique look, you can't really pinpoint the inspiration so it feels fresh.
Some examples of various inspirations for characters are as follows; Party Pam was inspired by a drink umbrella, a 50's housewife, and Japanese Anime. Lady Bread was based on Marie Antoinette, a bread basket, and a lacy pair of stockings I saw in a store window. Freeze Ray Ray is an English Gentleman, from black and white movies, and David Duchovny's character's hand in film Zoolander (2001).
FG: There is a bit of long format storytelling in Odd Squad, can it be frustrating to tell the story visually through the designs when most of the characters always wear a uniform?
CT: With the bulk of the characters looking the same, the viewer has a greater opportunity to connect with the individuality of the character through the actors performance. There was a balance on this show as we were always busy creating new villains in the shop. In any given week we'd shoot parts from four different scripts, so it was helpful with "suit only" episodes to spend more time in the costume shop on building Villains.
FG: The villain designs are fantastic, what was your design process behind your favorite villain design?
CT: Thank you!
A step-by-step of JAMIE JAM
While reading the script "Mid Day in The Garden of Good and Odd" it struck me that Jamie Jam should have an aesthetic similar to "Jem and the Holograms", the original 80's animated TV show. I was out at La Cubana restaurant at the time and didn't have any paper with me, so I used the back of my Veggie Medianoche stained receipt to do quick pencil sketch.
I knew of the actor (Ashley Comeau - instagram) laying the role before having her in for initial measurements, so I knew she had great legs and we could show them off with shorts. Her physique can also carry a bodice with strong shoulders (which played well with the 80's style inspiration), and as she is tall, I could do a slight train on her skirt (it caught the wind and billowed when she walked - very villainous!). I threw a bit of sparkle on her arms and legs, leather and nickel detailing to give a Rocker kind of edge, and little strawberries on her gloves and neckline to represent her jam flavour.
During the concept meeting we decided the jam she'd shoot out of her hands was to be purple. With color now in mind, I set out to find her fabrics.
My favorite fabric shops in Hamilton Ontario (Ann's Fabrics & The Textile Centre) were closed for their August vacation, leaving me with upholstery only stores. It ended up working out just fine, as I found all five fabrics I used in her costume in one go at Consumers Textiles. Homemade pie and a Zac Posen dress (oh the architecture!) rounded out my inspirations for her look, and gave way to the quilted faux leather details on her bodice, and the pleating in her "skirt cape".
I had a special effects artist (Karlee Morse - instagram) create the silicone jam for her shoulders, glove palms, and boot details. The gingham jam lid is held on by a magnet to allow the actor to twist the lid as you would off of a jar, and it comes off to reveal a VFX marker inside. The VFX team can grab the marker and fire jam from her glove playing in to the theory that she herself is made up of jam on the inside with a Human crust.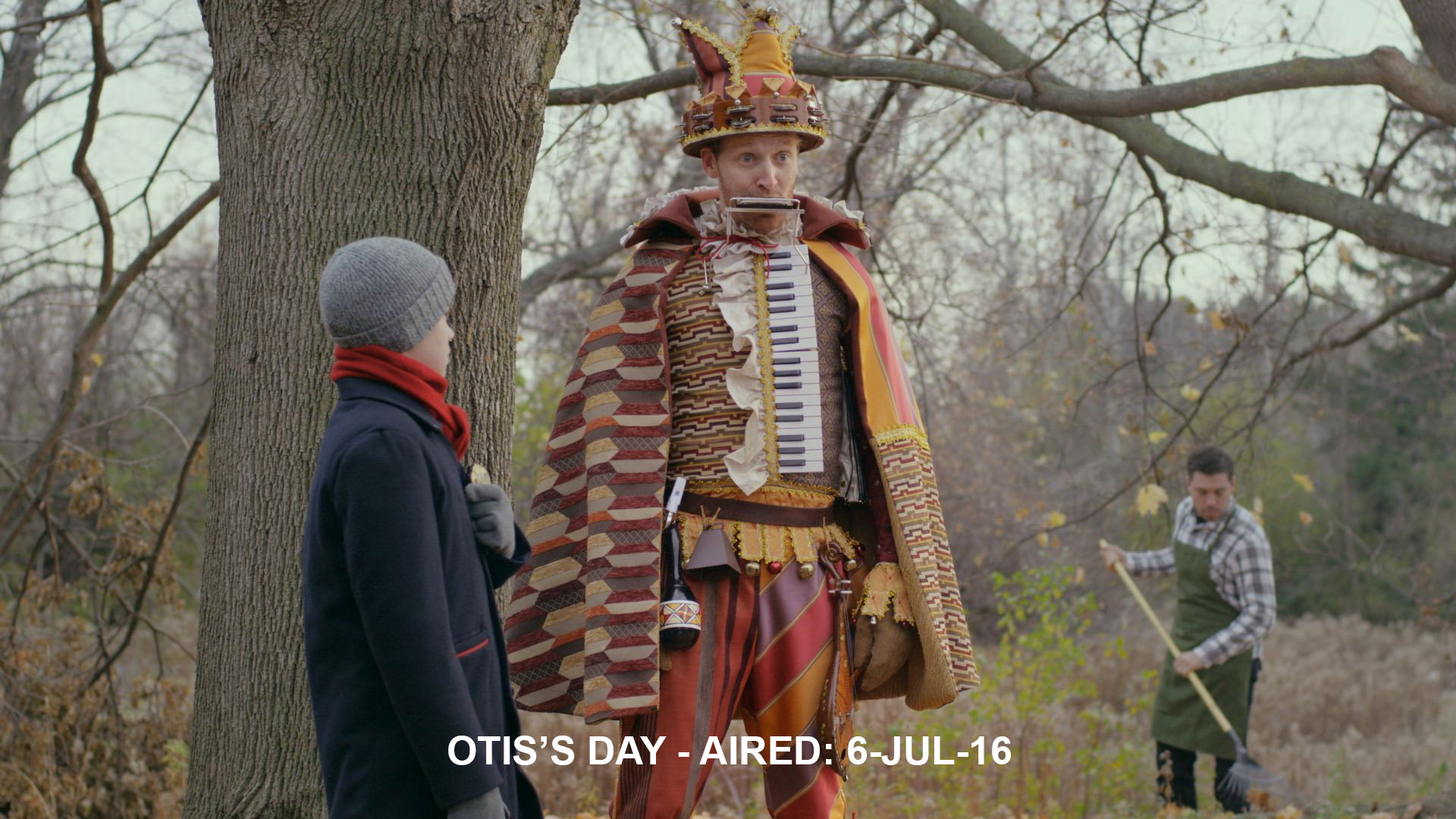 FG: Favorite Odd Squad costume?
CT: How can I choose just one!? Here's my top 5 in order of appearance on the show;
Noisemaker

Ms O's Jackie Awards Dresses (she had 9 *but they didn't all make it into the final cut of the episode - they were inspired by dresses won by Academy Award Winning Women)

Jamie Jam

Lady Bread

Party Pam
FG: Who are some influential costume designers and fashion designers on your life?
CT: I'm heavily influenced by Haute Couture designers. My absolute favourite is when John Galliano had the Dior House, he can do no wrong. Ellie Saab, Thierry Mugler, and of course Guo Pei rivals Galliano with voluminous pieces.
Other swoon worthy fashion designers; Mary Katrantzou's work, the prints are unbelievably beautiful. Zac Posen's gowns are phenomenal, the under structures and architectural details are remarkable! Fendi is so quirky and fun. Anna Sui, Comme Des Garcons, and locally (Toronto) I love Lucian Matis and Christopher Paunil.
Some incredibly inspiring and accomplished Costume Designers I admire; Colleen Atwood, Catherine Martin, Sandy Powell, Irene Sharaff, Allyson Fanger, Terry Desbach
FG: What projects are you currently working on?
CT: Dino Dana (TVO Kids, Amazon Prime); It's a continuation of the series Dino Dan, and Dino Dan Trek's Adventures.
Introducing Dana, a feisty 10-year-old 'paleontologist in training' who (like Dan and Trek before her) eats, sleeps and breathes dinosaur. We build the transforming backpack, and I hand crochet all of the dinosaur hoods.
Check out Dino Dana on Facebook and Instagram
Sinking Ship is the production company that makes Dino Dana and Odd Squad.
Please follow Christine on Instagram and twitter
Thank you Christine for a very informative and fun interview!